SCR denitration technology | nitrogen oxide of generator set in landfill exceeds the standard (landfill denitration device)
---
GRVNES environmental protection team has developed a set of system with high cost performance and reasonable avoidance of siloxane at the application end. Save the maintenance and operation cost of ge
With the continuous development of social economy and urbanization, the global output of garbage is increasing sharply, and the impact of global garbage on the environment is becoming more and more serious. The "garbage siege" has become one of the main problems faced by countries all over the world. The research and development of waste treatment technology, especially waste incineration power generation technology, has become a general trend of global development and stability in the future.
Waste incineration is an ancient traditional method of waste treatment. After waste incineration, the reduction effect is remarkable, land is saved, various pathogens can be eliminated, and toxic and harmful substances can be transformed into harmless substances. Therefore, waste incineration has become one of the main methods of urban waste treatment. Garbage power generation refers to a special form of power generation that uses a special incineration boiler to incinerate and treat all kinds of solid waste, and then generates power through a professional steam turbine generator set. The categories of waste power generation are mainly divided into waste incineration power generation and waste landfill power generation. Waste incineration is the process of reducing the capacity of waste through oxidation at high temperature through appropriate thermal decomposition, combustion, melting and other reactions to become residue or molten solid matter. Facilities for incineration of heavy metal and flue gas must be provided to prevent them from being discharged into the environment again. Recycling the heat generated by waste incineration can achieve the purpose of waste recycling.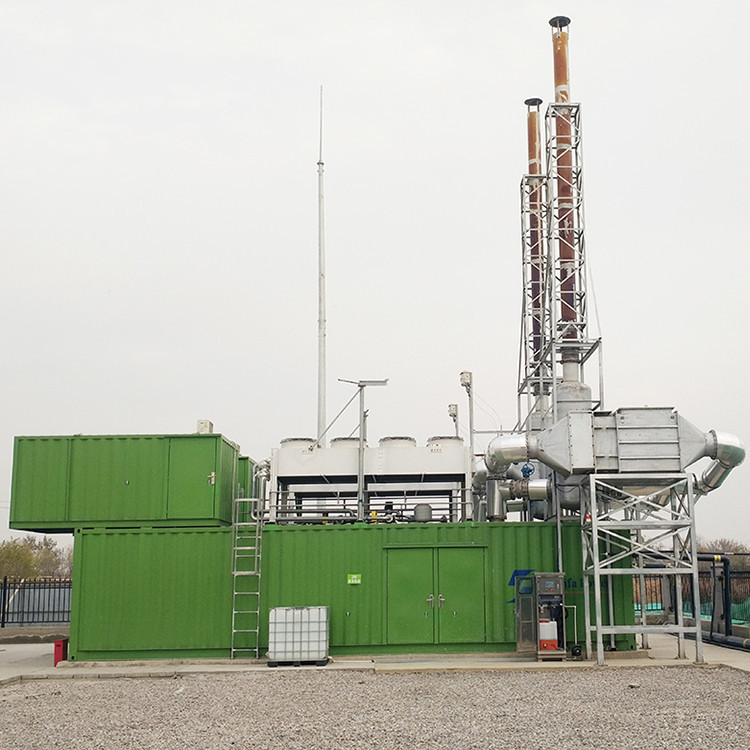 Treatment of exhaust NOx from generator set in garbage plant
For the treatment of NOx in the tail gas of gas-fired internal combustion engine, the treatment paths of different fuels are different, and the cost and service life are also different. It is easy to use natural gas fuel. If it is coal-bed methane, petroleum associated gas and other petrochemical gas, fuel desulfurization should be considered; For the fuel such as biogas produced by landfill gas and organic sewage treatment plant, in addition to the installation of desulfurization device, it is also considered that the siloxane produced by the fuel mixed gas under high temperature conditions is attached to the surface of SCR catalyst, which will lead to the failure of catalyst and the failure of the whole SCR system. Due to the high treatment cost, there is no pretreatment siloxane device in the actual project. GRVNES environmental protection team has developed a set of system with high cost performance and reasonable avoidance of siloxane at the application end. Save the maintenance and operation cost of generator set for the owner of landfill gas power station.