Control of black smoke and nitrogen oxides | analysis of exhaust pollutants from internal combustion engines
---
For NOx control in engine exhaust, GRVNES environmental protection design team, based on years of practice, found that some diesel engines will have fuel injection in the exhaust pipe at the beginning
Composition analysis of exhaust pollutants from internal combustion engines:
Engine pollution to the environment mainly comes from exhaust products. The main pollutants of gasoline engine are co, NOx and HC. Burning leaded gasoline will also produce lead pollution.
Pollutants emitted by the engine the environmental pollution of the engine mainly comes from exhaust products. The main pollutants of the gasoline engine are co, NOx and HC. Burning leaded gasoline will also produce lead pollution. The most important exhaust pollutants of diesel engines are particulates and NOx. Another major pollutant in engine exhaust is CO2, which is the main product of normal combustion. Although CO2 itself is non-toxic, it is the main component causing "greenhouse effect", so it has attracted worldwide attention.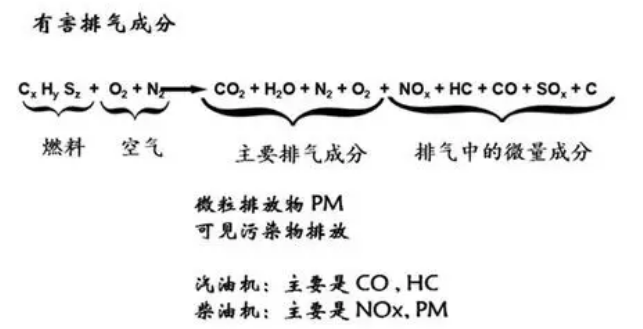 1. carbon particles (C)
Particulate PM is removed by DPF physical filtration.
2. sulfur oxides (SOx)
At present, the sulfur content of national V diesel is less than 10ppm (parts per million +), so Sox in the tail gas of normal diesel engine can be ignored.
3. hydrocarbons and carbon monoxide (HC/CO)
Doc is adopted, and the tail gas passes through the noble metal oxidation catalyst carrier to promote the appropriate chemical reaction of harmful gas at a certain reaction temperature.
4. nitrogen oxides (NOx)
With SCR, the tail gas passes through the vanadium based or molecular sieve reduction catalyst, and under certain reaction temperature and injection of urea solution, the harmful gas is promoted to carry out appropriate chemical reaction.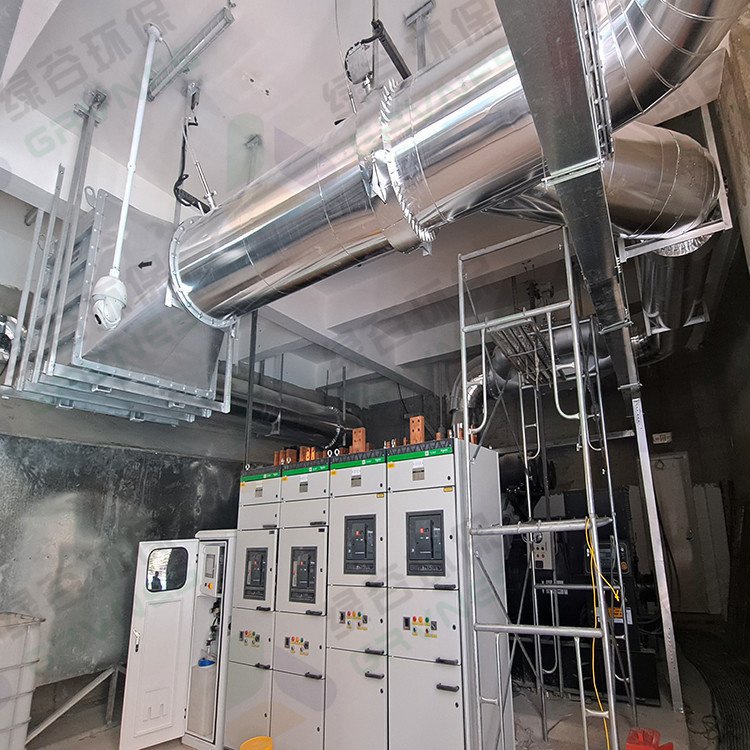 Black smoke and nitrogen oxide control
Exhaust pollutants from internal combustion engines can be effectively treated through the following ways:
1) Doc (diesel oxide catalyst) diesel engine exhaust catalytic oxidizer to remove CO, HC and a small amount of C particles.
2) DPF (diesel particulate filter) diesel engine exhaust particulate filter, which removes C particles through physical filtration.
3) SCR (selective catalytic reduction) is a selective catalytic reduction method to remove NOx.
Grvnes-CYJ particle catcher is a new combination of materials and processes. It is a diesel exhaust particle catcher composed of multiple groups of metal DPF carriers in parallel. It adopts a snap fixed withdrawable unit design. When PM carbon particles block and cause high back pressure, the electronic control system alarms and opens the bypass. It can flexibly extract the filter unit for water washing and regeneration without consuming any energy during operation.
The new Grvnes-CYJ series particle catcher adopts a folding fan structure, with larger filtering area and longer regeneration time. It only needs to be washed with normal pressure tap water for 30 seconds. It is more convenient than the traditional laminated structure and greatly improves the performance of the product. This is also the latest product patent of the company.
Grvnes-SCR denitration system
For NOx control in engine exhaust, GRVNES environmental protection design team, based on years of practice, found that some diesel engines will have fuel injection in the exhaust pipe at the beginning of startup, and the diesel will be covered on the doc or SCR catalyst, which will weaken the role of the catalyst. For this reason, an oil-gas separator has been specially developed to separate the fuel and exhaust gas as much as possible to ensure the effective working performance of the catalyst. At the same time, the control system can be developed according to different brands of internal combustion engines.